Ready to run with our TTC 48XS
TTC 48XS is an intelligent and safety-certified I/O module: Like the general purpose I/O modules - the TTC 36X and TTC 48X - it is part of the complete and compatible TTC 50 family. The unit is protected by a compact, automotive-style housing suited to mobile applications in harsh environments.
The TTC 48XS is delivered with a ready-to-run software. The application has to be implemented for the controller only and interfaces with the device module via CANopenSafety. This makes the setup user friendly and saves development time.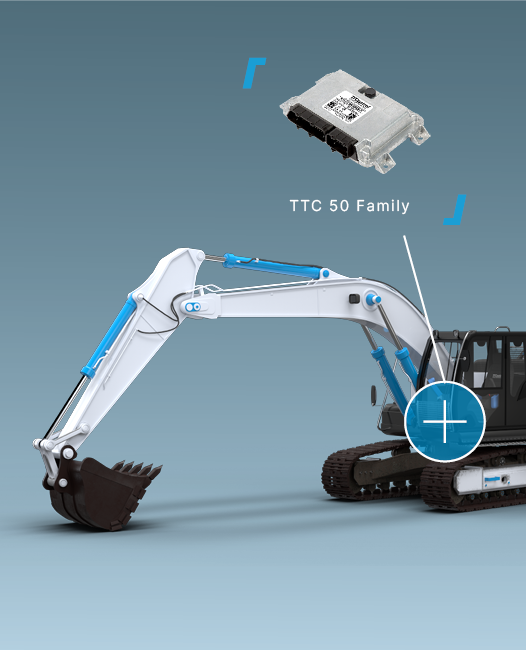 Ensuring Functional Safety
The I/O module acts as a device and is used in combination with, and controlled by a controller electronic control unit and communicates via the standardized CANopen protocol, parameterized according to CiA DS 401. It is also compliant to the European Standard EN 50325-5 for CANopenSafety and is developed in accordance with the international standard EN ISO 13849 on functional safety, performance level (PL) d.
One or more I/O modules can be used in addition to the controller control unit in a modular way. This distributed architecture makes the design and assembly of different vehicle variants possible and more cost and time effective. In addition cabling is simplified and more economic. Another key advantage is, that it is possible to set up a distributed system where I/O modules (TTC 48XS) take over safety relevant functions.
Key Benefits
EN ISO 13849 (PL d)
Easy integration and usage
CANopenSafety compliant
Additional watchdog CPU
Automotive style housing suited for rough operating conditions