Compact and Flexible Control Units
The TTC 30 product family offers general purpose controllers with the TTC 30/32 or safety certified controllers with the TTC 30S/TTC 32S. The I/O modules TTC 30XH and the TTC 30XSH are part of the family as well.
These compact control units specifically developed for use in cost-sensitive applications or smaller machines. The device is equipped with the performant Infineon XC22xx microcontroller. With its 30 freely configurable I/Os the ECU can be operated with a wide variety of sensors and actuators and it also offers a large degree of flexibility for the system designer.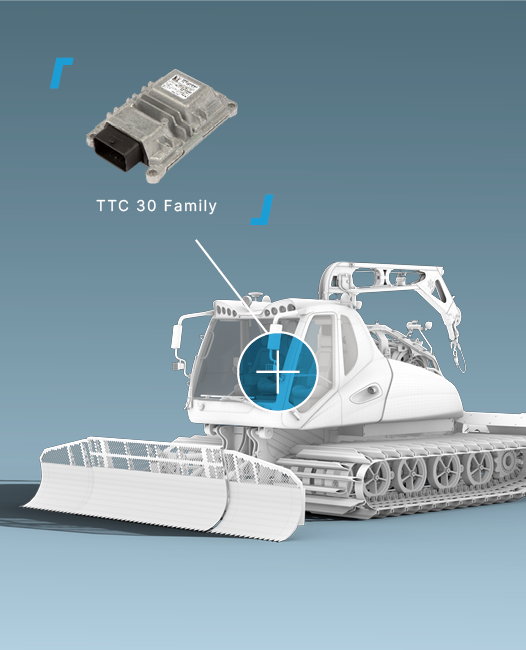 TTC 30 /TTC 32
TTC 30 and TTC 32 were especially developed for vehicles and machines used in rugged operating environments and at extreme operating temperatures. The devices are protected by a proven, robust and compact housing, specifically suitable for the off-highway industry, offering an optimized relation of size to performance. The device can easily be mounted on the machine making use of the four available screw holes in the housing.
The unit is best suited for controlling proportional functions. Six out of the eight PWM outputs are equipped with integrated current measurement. Therefore up to three hydraulic axes can be current controlled.
TTC 30 can be programmed in C, whereas TTC 32 can additionally be programmed in CODESYS. When programmed in CODESYS, it can also be used as a CANopen Master.
TTC 30S /TTC 32S
The TTC 30S and TTC 32S controllers are the safety certified variants of TTC 30 and TTC 32. They feature the same processor and number of I/Os as their non-safety variants. In addition they are designed to comply with the ISO 13849 international standard. This means the platform is designed to provide the necessary base for an actual application which is subject to certification for Performance Level (PL) d* according to ISO 13849.
TTC 30S and 32S are equipped with a Main CPU and a Watchdog. The Watchdog can bring the ECU to a safe state by interrupting the Main CPU and disabling the safety switches via a dedicated output.
In the safe state zero current will be applied to the safety-critical outputs of the ECU. This means that for example in case of an error or an emergency stop request the safety-critical outputs will be switched off.
* PL c certification available for TTC 30S.